Following the Miss Oklahoma USA pageant, I was signed to a non-exclusive, up and coming modeling agency in the Oklahoma City area. On Monday, December 28, I began my day with a runway and print workshop for Anthony David Modeling Agency in Moore. When I first arrived at the workshop, I was pleasantly surprised to see a few of my friends from the Oklahoma USA pageant. Both Lindsey Harvey, 4th runner up to Miss Oklahoma USA and Michelle Bruffet, 1st runner up to Miss Oklahoma USA were also signed to the agency. It was great to see the girls again and reunite.

Leigha Davis, 2nd runner up to Miss Oklahoma USA, and Bethany Gerber, Miss Kansas USA 2010, were also signed to the agency. Not only that, but we will all be participating in a big bridal show coming up soon. The show will be held mid-day on January 16, at the Northpark Mall in Oklahoma City.

After the workshop was finished, I jetted off to Edmond for a fitting on behalf of a News 9 Fashion segment. I was privileged to wear clothing from the hip boutique, "Retropolitan." I had never been to Retropolitan before, but it turned out to be an adorable boutique with all kinds of trendy clothing, jewelry, and shoes to purchase.

I arrived at Retropolitan with my good friend and fellow Anthony David model, Jackie Debruque. The boutique owner, Lauren, had already picked out our outfits so the process went very quickly. As soon as we confirmed that our clothing fit properly, we were done.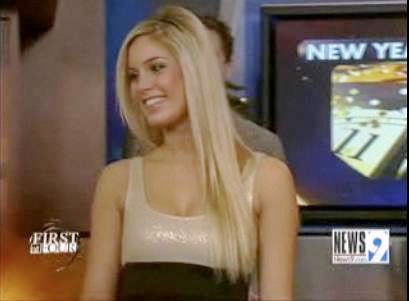 Immediately proceeding the fitting at Retropolitan, I headed over to Results Fitness to meet with Mr. Brian Atteberry, the official trainer for Miss Oklahoma USA, Miss Nebraska USA, Miss Missouri USA, Miss Kansas USA, and Miss Arkansas USA. (As well as the Teen USA contestants) It was wonderful to join up with Brian once again for a "round two." –He was also my trainer during Miss Oklahoma Teen USA.

After chatting and catching up a bit, Brian and I went over nutrition briefly, measured my body fat, discussed my goals, developed a workout plan and without delay, we immediately went to work!

--Now, I took a nice, long break after Miss Oklahoma USA to focus on my schoolwork, to finish strong with my finals, and of course, to enjoy the holidays. (Especially the food!!!) ...Needless to say, I was sore beyond belief the next morning!! haha

(On a small side note, I saw my So6ix magazine cover at both Retropolitan and Results Fitness! It is always a neat thing to walk into a store or a business and see your face on something or see work you have done. ☺ )

Anyhow, when I woke up the next morning, I managed to get out in the cold and trudge my car through the snow-covered roads to make it to the gym. Brian really helped me get back into gear!

Once my workout was complete, I got all dolled up for a "New Years" Special on News 9. That evening, on Tuesday, December 29, I contributed to the segment with three other models and had a blast meeting everyone and workin' the camera. ;)

Afterward, my mother and I did a little shopping for a winter coat to keep me warm during the Cotton Bowl Parade coming up. (Also as an excuse to exit out of the 5'o clock traffic we were stuck in) And then finally, after our shopping excursion, we treated ourselves to dinner at the Cheesecake factory. –I got the miso salmon. Yum! Yum! (My favorite)

-In a couple of days I'll post pictures and update on the Cotton Bowl Parade. Woohoo!

Stay tuned. ;)

Morgan Woolard